If BigBlueButton Free?
Well, before answering that, let's understand the license under which BigBlueButton is made available.
What are free BigBlueButton Restrictions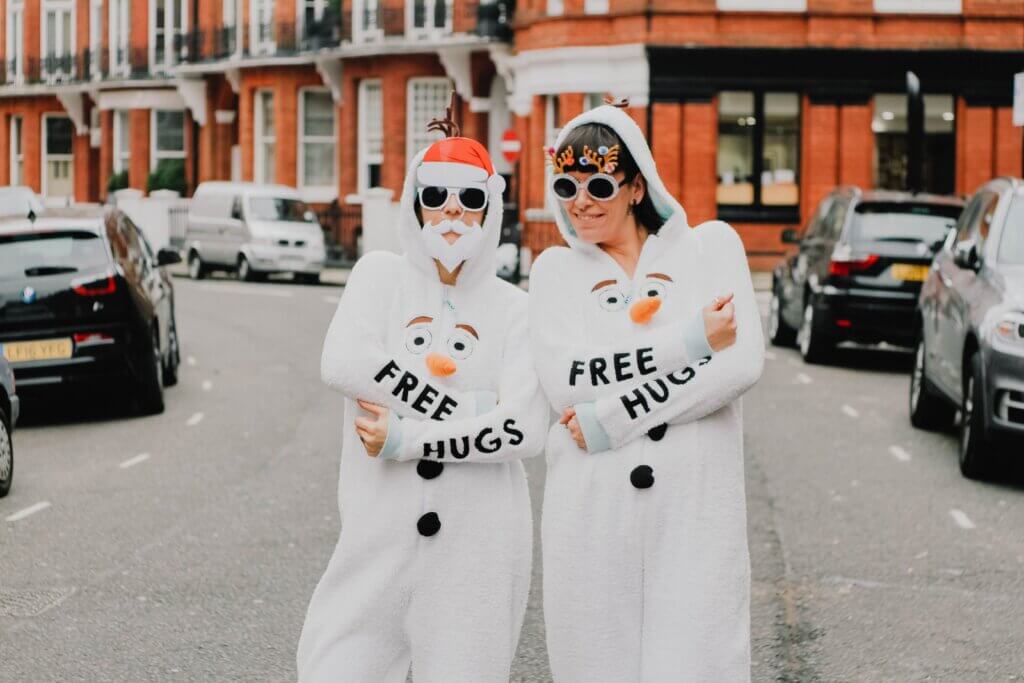 BigBlueButton is an open-source web conferencing system specifically designed for online learning.
It is a robust platform that enables educators to deliver a high-quality online learning experience to remote students. This open-source software offers a multitude of features such as audio and video sharing, presentation slides, interactive whiteboard, breakout rooms, chat functionality, and screen sharing.
Being open-source means that its source code is freely available, allowing developers from around the world to contribute to its development, improving its performance, adding new features, and customizing it to better meet user needs.
BigBlueButton's openness, collaborative development process, and its focus on educational needs make it a valuable tool in the realm of e-learning.
The LGPL (Lesser General Public License), under which BigBlueButton is licensed, allows you to freely use, modify, and distribute the software, under certain conditions. Unlike the stricter GPL (General Public License), LGPL allows the modified versions of the software to be licensed under a different (even non-free) license, given that the source code for the original LGPL-licensed components is still made available.
This means you can customize or modify the source code of BigBlueButton for your own use or to distribute it. If you distribute a modified version of an LGPL-licensed software, you must also distribute the modified source code under the LGPL, allowing others to modify your changes.
However, LGPL does not restrict providing the software as a service. You can use BigBlueButton to provide your own web conferencing service, even commercially, without releasing any modifications or additions you've made that are not distributed.
Selling the source code itself is a bit more complex. While you can charge for the physical act of transferring a copy of the software or for warranty or support services, you can't restrict the recipients' freedom to modify and distribute the software. They must be able to obtain the source code, modify it and distribute their modifications under the same LGPL license.
BigBlueButton Free Trial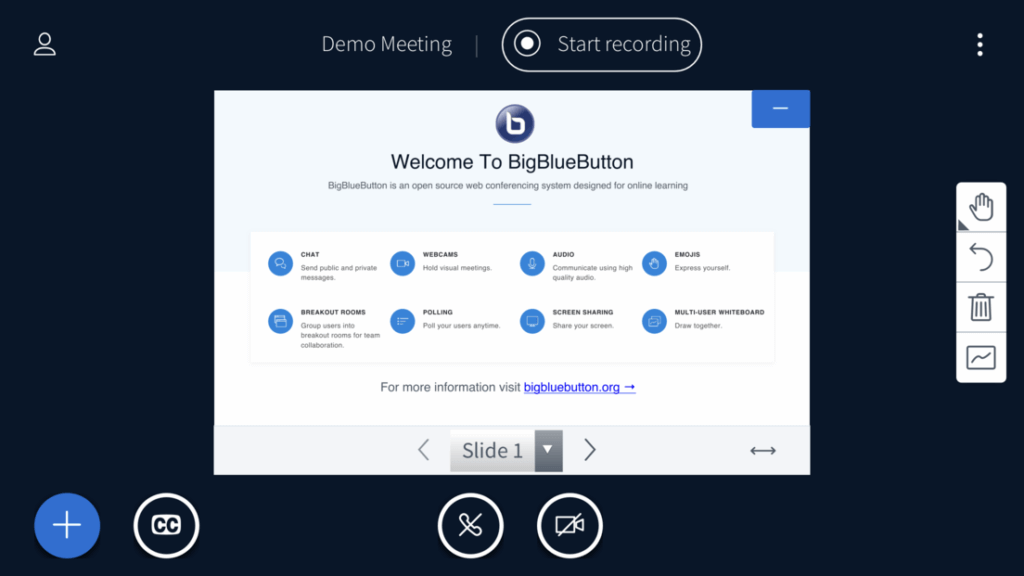 Signing up for a BigBlueButton demo is as simple as 1-2-3:
Visit the demo page at demo.bigbluebutton.org.
Sign up for free.
Verify your email, and voila! You're ready to log into your account.
Once you're logged in, hit the "Start" button to kick off your very own BigBlueButton classroom. You'll be joining the meeting as a moderator, offering you full control over the session.
Is BigBlueButton Free – No!
Although BigBlueButton is open-source software and free to use, it's important to consider the total cost of ownership.
This is more than just the initial setup; it includes recurring costs associated with servers, bandwidth, and storage.
Server cost: Running the BigBlueButton software requires a robust server setup, which can be quite a significant expenditure, especially if you are managing a large volume of learners.
Bandwidth cost: High-quality real-time audio and video delivery, a hallmark of BigBlueButton, necessitates considerable bandwidth. The more users and the higher the quality of your content, the more bandwidth you will require, which will inevitably impact your budget.
Storage cost: If you plan to record and archive your online classes for future reference, you'll need a substantial amount of storage. Depending on the number of classes and their duration, storage costs can quickly add up.
You can use the provided Pricing Calculator tool to gauge an approximate cost for these three elements, helping you better prepare your budget.
Moreover, it's crucial to remember that operating a complex real-time system like BigBlueButton requires technical expertise.
The software undergoes updates every 2-4 weeks, so you or a member of your team will need to stay updated with these changes.
Regularly scanning through the BigBlueButton-Setup mailing list can provide insights into common technical issues that administrators face.
Therefore, you should also factor in the potential costs associated with training or hiring technical personnel to manage and troubleshoot the BigBlueButton system.
BigBlueButton Hosting with HigherEdLab.com: Affordable and Customizable
Discover the convenience of online teaching with HigherEdLab.com's managed BigBlueButton hosting.
With our competitively priced plans, you can conduct high-definition audio and video classes, promote your brand through custom URLs, and integrate seamlessly with Moodle or your preferred LMS.
You'll also have access to detailed student engagement analytics and the reassurance of secure data handling.
Our hosting plans are designed to make live streaming a breeze and allow for easy scaling as your needs evolve.
Let's explore our subscription options, each thoughtfully designed to suit various teaching scenarios:
Premium Plan
Ideal for schools and e-training companies, this plan offers an extensive range of features for those requiring full data control, bespoke branding, API integrations, and priority support.
It includes unlimited licenses, the ability to host unlimited classes, capacity for up to 250 students per class, and 1000 hours of recordings.
Branding is made easy with a custom domain, logo, theme, and even a virtual background. Comprehensive analytics and performance dashboards, Moodle and API integration, and priority support round out the package.
Plus, you'll have a dedicated Customer Success Manager to help streamline integration and training, ensuring optimal cost efficiency and performance.
Advanced Plan
This is a cost-effective solution ideal for coaching centers. It offers a superior e-learning platform complete with interactive student engagement tools.
Lite Plan
For individual tutors, the Lite plan provides a user-friendly, intuitive solution for online teaching, eliminating the need for complex technological setup.
Regardless of your teaching scale or needs, HigherEdLab.com has a managed BigBlueButton hosting plan for you. Subscribe today for an uninterrupted, high-quality online classroom experience.
Choosing to Self-Host a BigBlueButton Server
For those with the technical know-how and a desire for total control, self-hosting a BigBlueButton server is an excellent alternative. This option allows you to tweak the system to your exact requirements and manage it on your own terms.
To begin with, you need to visit the BigBlueButton GitHub repository, where the open-source project is hosted. Here, you can find all the information you need about the software, including detailed installation instructions, updates, and a community of developers ready to provide assistance.
However, before you embark on this journey, it's important to ensure you have a server with the necessary specifications to support the BigBlueButton system. At a minimum, your server should have:
8 CPU Cores: To ensure your server has the processing power to manage the various tasks BigBlueButton needs to perform, such as video conferencing, presentation uploading, and chat functionality.
16 GB RAM: Adequate memory is vital to support the simultaneous activities that occur during an online class. This includes hosting multiple users, managing audio/video streams, and supporting various interactive features.
Ubuntu 18.x: BigBlueButton is optimized for this version of the Ubuntu operating system. The compatibility ensures smooth operation and easy troubleshooting.
Once you've secured a server meeting these specifications, you're ready to start setting up your own BigBlueButton server.
A number of cloud service providers, including Amazon AWS, Google Cloud, Hetzner, OVH, and Vultr, offer servers that meet these requirements.
You can rent a dedicated server from any of these providers and follow the installation guide on the BigBlueButton GitHub page to set up your own online classroom platform.
Remember, while setting up your own server provides flexibility and control, it also requires a degree of technical proficiency and a commitment to ongoing management and troubleshooting.