Make BigBlueButton Better & Reliable
Fast Streaming · MP4, Chat & Whiteboard · Monitoring & Analytics · 54% Cheap Hosting with Tech Support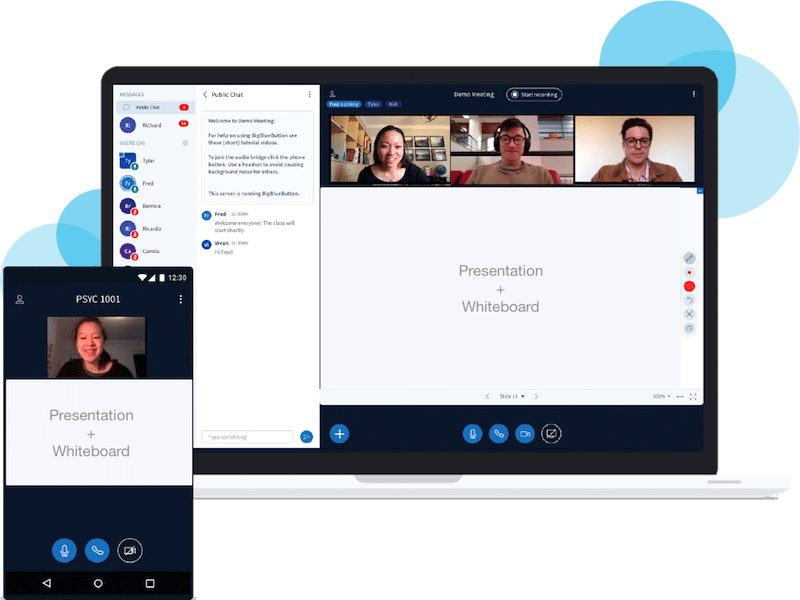 Easiest Online Classes at Lowest Cost
BigBlueButton is like-Zoom for online classes but at a much lower cost.
You get full control over your students' data. Offer classes with your URL and branding. Quickly start and scale as you need with our monthly subscription.
More features for a better BigBlueButton experience
Fast streaming to 1000s users
Low-latency dedicated streaming servers
Show your branding
Stream on YouTube, FaceBook, Vimeo
MP4, chat & whiteboard
Save recordings as MP4
Persistent chats across sessions
Integrate with Google whiteboard
Monitoring & analytics
Real-rime performance monitoring
Analytics across all sessions
Automated alerts 
Reliable hosting & support
54% lower hosting cost
Real-time real-person tech support
No connection and audio/video issues 
BigBlueButton is the most popular video conferencing for online classes
Attendance
Get analytics including time of joining and leaving, chat transcript, emoji and polls
Your URL
Build and promote your online classes with your brand, url, logo and theme 
Your LMS
Integrate with Moodle, Zoomla, Canvas, Sakai, Wordpress or any other LMS
New Features
Download MP4, livestream on YouTube, Facebook or your RTMP server
Monthly Subscription
Pay a monthly fee to get your dedicated BBB server; don't pay when no classes;
Data Privacy
Get complete control of your students' data, without ever sharing with any 3rd party
Fast Support
Count on real-fast and real-person tech support for troubleshooting and upgrades
Scale with Ease
Load balancers with multiple servers to teach 1000s of students simultaneously
BigBlueButton Management Console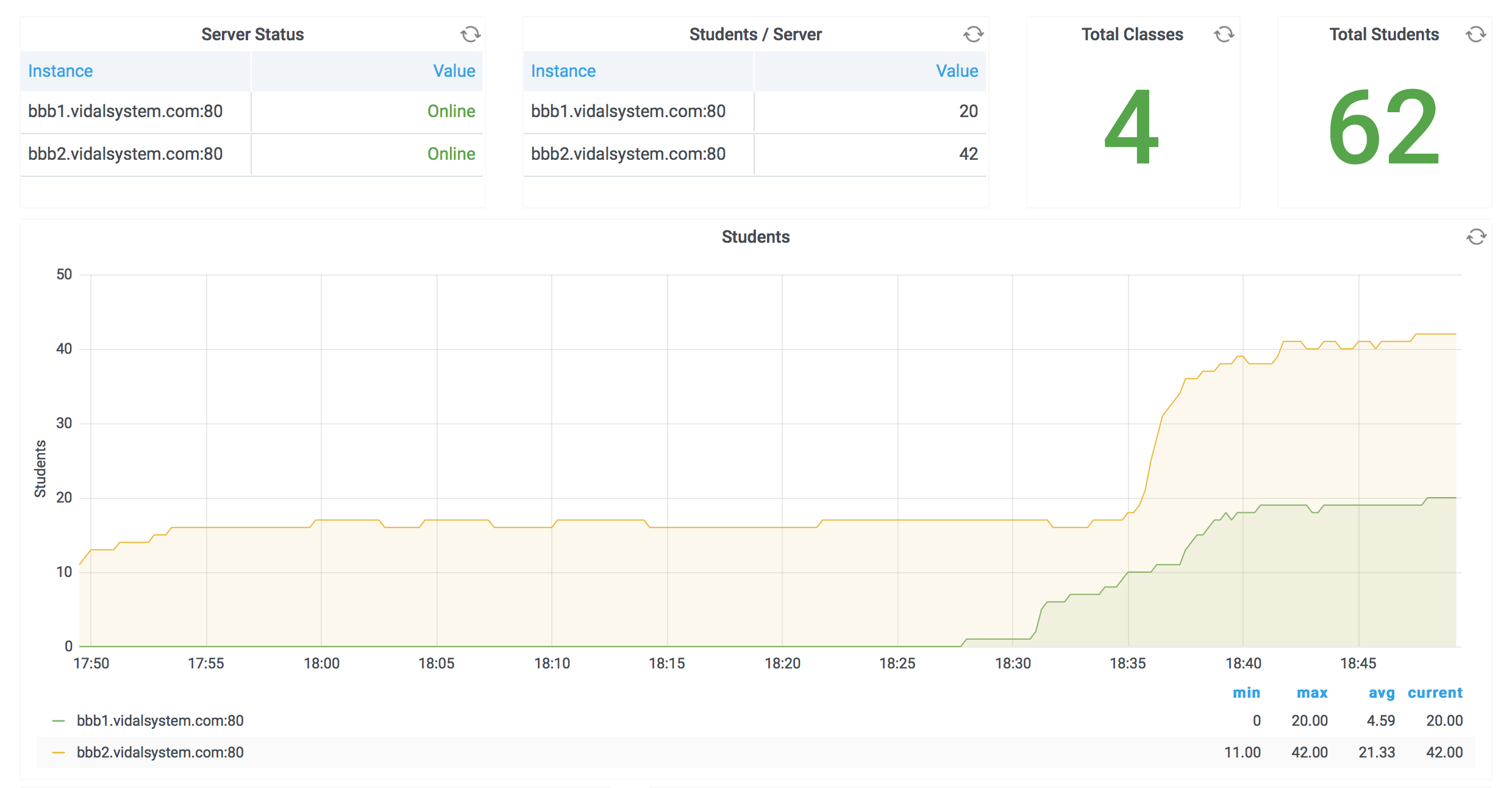 Real-time performance dashboard:
Live rooms and concurrent users
CPU, memory and bandwidth usage
Email and mobile notifications
Class analytics:
Summary of all classes
Attendance (join and exit time)
Chat, polls and hand raised report
I just gave it a try and I think it will be very helpful. Excellent!
Zoom
BBB
Primary purpose
Online meetings
Online classes
Video & Audio
Yes
Yes
Chat
Yes
Yes
Screen share
Yes
Yes
Application share
Yes
No
Share computer sound
Yes
Yes (Virtual Audio Cable)
MP4 Recording
Yes
Yes
Whiteboard
Yes
Yes
Annotate Presentation
Yes
Yes
Break-out room
Yes
Yes
Co-host/Moderator
Yes
Yes
Polls
Yes
Yes
Virtual hand raise
Yes
Yes
Status Emojis
Yes
Yes
File transfer
Yes
No (share link on chat)
Shared notes
No
Yes
Dial-in with phone
Yes
Yes
Shares data with 3rd party
Yes (

Shares data with Facebook and other advertisers)

No (You host on your own servers)
Custom Domain
No
Yes (You can host under your own domain)
Analytics
Minimal
Detailed (attendance, chat and poll)
Integration with LMS
Completely separate from LMS
Integrates with many LMS including Moodle, Canvas, Joomla, Schoology, and WordPress
Desktop client or browser
Desktop client with frequent updates and one-time audio plug-in
Runs in browser. Nothing extra needed.
Data privacy
No
Yes (You can host on your own server and control whether and which user data is tracked)
Custom Apps to Extend BBB
MP4
bbb-mp4: Easily integrate this app into your BigBlueButton server to automatically convert class recordings into MP4.
Dial-in Number
bbb-twilio
: Integrate Twilio into BigBlueButton so that users can join a meeting with a dial-in number
Optimize
bbb-optimize
: Better audio, fix 1007/1020 errors, dynamic video profile, pagination and more optimizations
Our Guide answering 100+ questions on BBB
In this guide you will learn everything that is there to know about this popular video conferencing tool for online teaching including:
Should I use BigBlueButton
How to install BigBlueButton
How to use BigBlueButton
Troubleshooting
Integrations
BigBlueButton vs Zoom
Have Questions about BigBlueButton?
We help you deliver online virtual classes on BigBlueButton video conferencing.
At a lower cost. With real-fast and real-person tech support.