BigBlueButton
Start Your 7-day Free Trial
Bare metal server for superior audio/video | Customized with your domain & branding| Real-time real-person tech support
Lite
The BBB Lite plan enables you to deliver online classes to 25 students
Billed per month
Standard
The BBB Standard plan enables you to deliver online classes to 100 students
Billed per month
Advanced
The BBB Advanced plan enables you to deliver online classes to 150 students
Billed per month
You can upgrade, downgrade, or cancel your subscription anytime. No contracts, no hidden charges.
Migration took literally two lines and 30 seconds! Remarkably painless and brilliant service.
Fast tech support. Everything worked fine. I am going to continue hiring for my upcoming classes.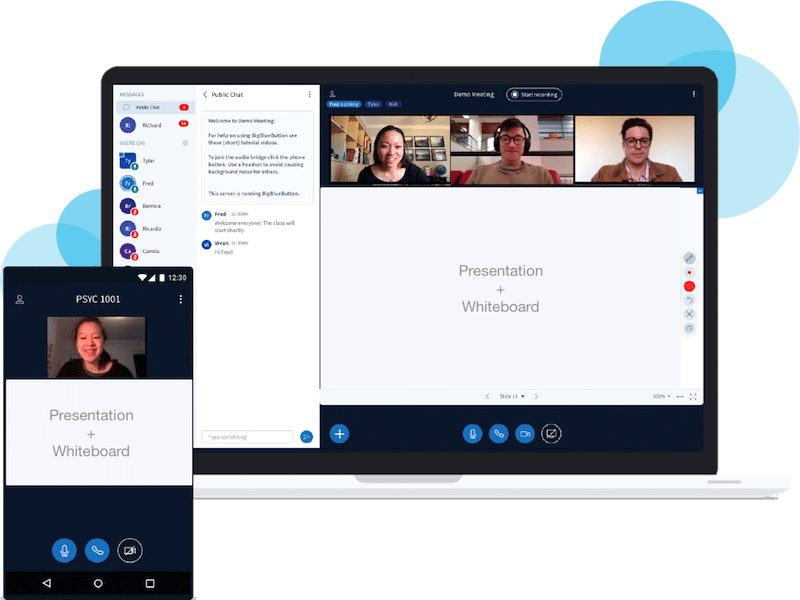 Easiest Online Classes at Lowest Cost
BigBlueButton is like-Zoom at a much lower cost while being open-sourced and, thus, giving you full control over your data and branding.
We make BigBlueButton easy to use with our monthly subscription, giving you the highest security, complete data privacy, and real-time/real-person tech support.
Our Subscription Plan Comparison
| | | | |
| --- | --- | --- | --- |
| Feature | Lite | Standard | Advanced |
| Total Students | 25 | 100 | 150 |
| Class Hours | 100 hour / month | Unlimited | Unlimited |
| Public and Private Chat | | | |
| Whiteboard and Screen-share | | | |
| Poll and Notes | | | |
| Turn Server | | | |
| Greenlight Front-end | | | |
| MP4 Recording & Live-streaming | | | |
| Scalelite Load Balancer | Shared | Shared | Shared / Exclusive instance (add-on) |
| Support options | Email, Chat | Email, Chat | Email, Chat |
| Real-time Performance Dashboard | | | |
| Custom Domain & Branding | | | |
| Recording Storage (add-on) | $10/100GB/month | $10/100GB/month | $10/100GB/month |
| Choose Server Location (add-on) | | | Pricing as per location |
| Local Dial-in Number (add-on) | | | Pricing as per location |
Make Online Classes Engaging
Analytics
Get analytics including time of joining and leaving, chat transcript, emoji and polls
White-label
Build and promote your online classes with your brand, url, logo and theme 
Integrations
Integrate with Moodle, Zoomla, Canvas, Sakai, Wordpress or any other LMS
New Features
Download MP4, livestream on YouTube, Facebook or your RTMP server
Monthly Subscription
Pay a small monthly fee to get your dedicated server; don't pay when no classes;
No Technical Hassels
No technical distractions to install, monitor, maintain, upgrade and secure servers
Premium Support
Count on real-fast, real-time and real-person tech support to conduct your online classes
Scale with Ease
Load balancers with multiple servers to teach 1000s of students simultaneously
Real-time Performance Dashboard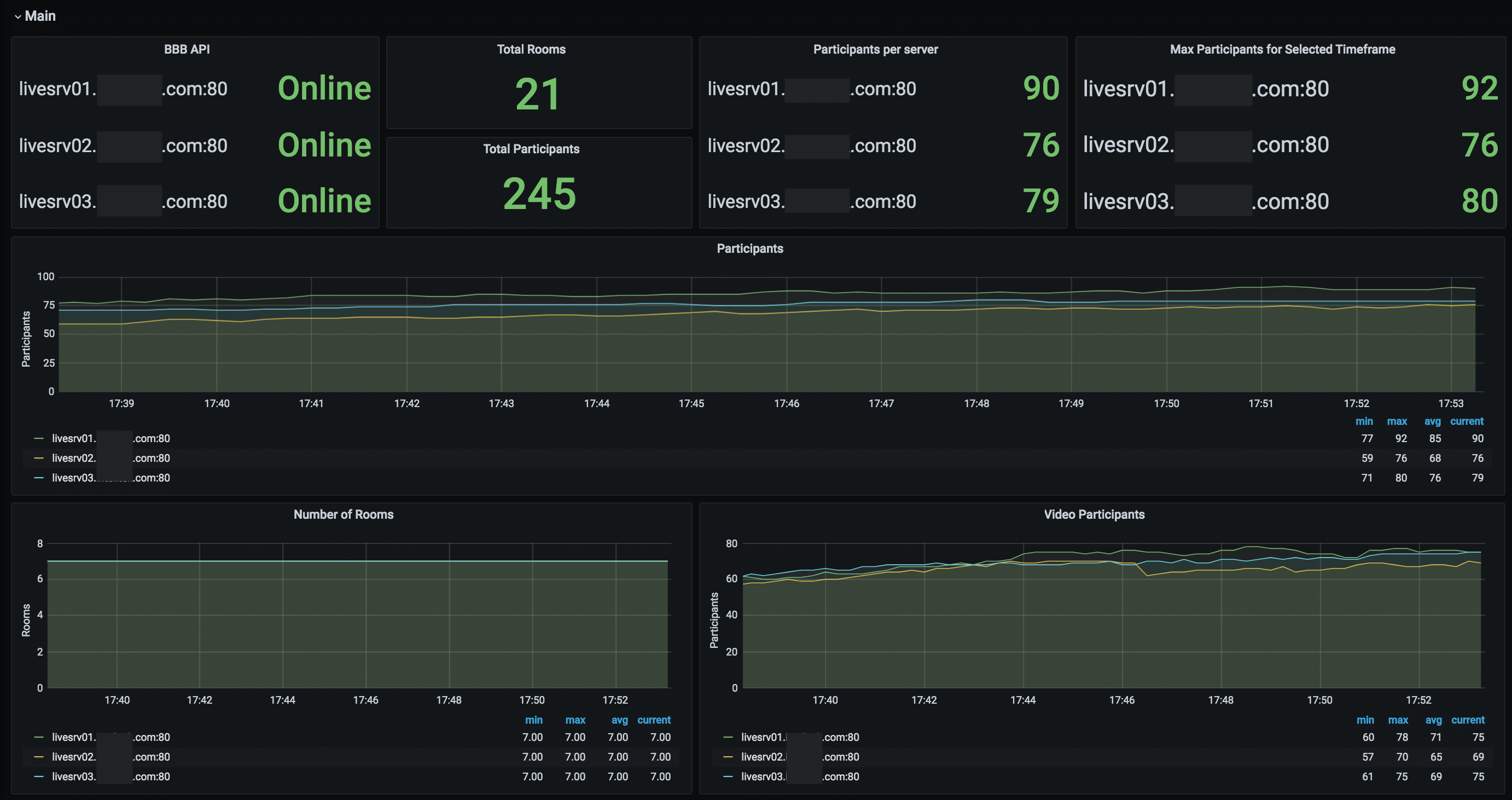 Analytics dashboards to monitor users in real-time
Turn server to help connect your users behind firewall
Optimized to ensure reliable audio and video
8 Core CPU, 32 GB RAM, 2 TB HDD, dedicated server
RAID 1 for redundancy and LVM for large recording storage 
MP4 recordings and backup at AWS S3
Our Custom Apps to Extend BBB
Dial-in Number
bbb-twilio
: Integrate Twilio into BigBlueButton so that users can join a meeting with a dial-in number
Optimize
bbb-optimize
: Better audio, fix 1007/1020 errors, dynamic video profile, pagination and more optimizations
Our Guide answering 100+ questions on BBB
In this guide you will learn everything that is there to know about this popular video conferencing tool for online teaching including:
Should I use BigBlueButton
How to install BigBlueButton
How to use BigBlueButton
Troubleshooting
Integrations
BigBlueButton vs Zoom
Zoom
BigBlueButton
Primary purpose
Online meetings
Online classes
Video & Audio
Yes
Yes
Chat
Yes
Yes
Screen share
Yes
Yes
Application share
Yes
No
Share computer sound
Yes
Yes (Virtual Audio Cable)
MP4 Recording
Yes
Yes
Whiteboard
Yes
Yes
Annotate Presentation
Yes
Yes
Break-out room
Yes
Yes
Co-host/Moderator
Yes
Yes
Polls
Yes
Yes
Virtual hand raise
Yes
Yes
Status Emojis
Yes
Yes
File transfer
Yes
No (share link on chat)
Shared notes
No
Yes
Dial-in with phone
Yes
Yes
Shares data with 3rd party
Yes (

Shares data with Facebook and other advertisers)

No (You host on your own servers)
Custom Domain
No
Yes (You can host under your own domain)
Analytics
Minimal
Detailed (attendance, chat transcripts, poll answers, hands raised)
Integration with LMS
Completely separate from LMS
Integrates with many LMS including Moodle, Canvas, Joomla, Schoology, and WordPress
Desktop client or browser
Desktop client with frequent updates and one-time audio plug-in
Runs in browser. No need for any additional app.
Data privacy
No
Yes (You can host on your own server and control whether and which user data is tracked)
Frequently Asked Questions
Why to get BigBlueButton on a monthly subscription?
Installing BigBlueButton software is only the first step. Running multiple instances of BBB in a secure and reliable manner to deliver the best online classes is overwhelming and expensive. By paying a monthly a small monthly subscription, you get all the benefits of BigBlueButton at a fraction of costs of your own deployment.
What is your BigBlueButton server hardware specification?
We run BigBlueButton on a bare metal server to deliver the best performance. Our hardware specification is as follows: 3GHz processor, 8 CPU Core, 32 GB RAM, 2 x 2 TB (RAID 1) HDD and unlimited bandwidth.
What if I want to cancel my subscription?
You can make changes to your subscription whenever you need to. Our goal has always been to create a happy, thriving community. If you are not thrilled with the product or are not enjoying the experience, then we will cancel your subscription.
Can I upgrade to a different package after signing up?
Yes, you can upgrade at any time after signing up. Just reach-out to us and we will help you make necessary changes to the right package for you.
Is my data safe?
We are committed to keep your data safe and secure. We never share your data with any third party for advertising.
Does you comply with GDPR?
Yes. We can locate the server geographically as per your preference. You run Moodle or any other LMS on your server, where user data resides. Our BBB server is only used for running online classes with no user tracking and no session recording to ensure compliance.
Have more questions?
Use the chat button on the bottom right side of the page to chat with us. Or, click here to email us.
Disclaimer: BigBlueButton is the best open-source web conferencing software for online learning. HigherEdLab.com is not endorsed or certified by BigBlueButton Inc. BigBlueButton and the BigBlueButton Logo are trademarks of BigBlueButton Inc.
Have questions?
We Make BigBlueButton Easy for You
We help you focus on delivering online virtual classes, while hiding all the complexities of running secure and reliable BigBlueButton servers at scale. At a lower cost. With real-time and real-person tech support.