Artificial Intelligence powered Online Classes on BigBlueButton
ChatGPT
Use ChatGPT to improve your BigBlueButton online classes
Create quiz on any topic

Describe a topic in details or ask for a definition or write code
Transcription
Help your students understand better by providing automated class notes
MP4 class recordings with subtitles

Full transcription of the class with topics, summary and sentiments
Translation
Speech-to-speech translate your classes in real-time into 100+ languages
Hear real-time translation of the class in any of 100+ language

View translated captions
Clients we serve from USA, UK, Spain, Indonesia, India
BigBlueButton servers that we run in Singapore, Germany and USA
% Uptime that we deliver through real-time real-person tech support
Migration took literally two lines and 30 seconds! Remarkably painless and brilliant service.
Fast tech support. Everything worked fine. I am going to continue hiring for my upcoming classes.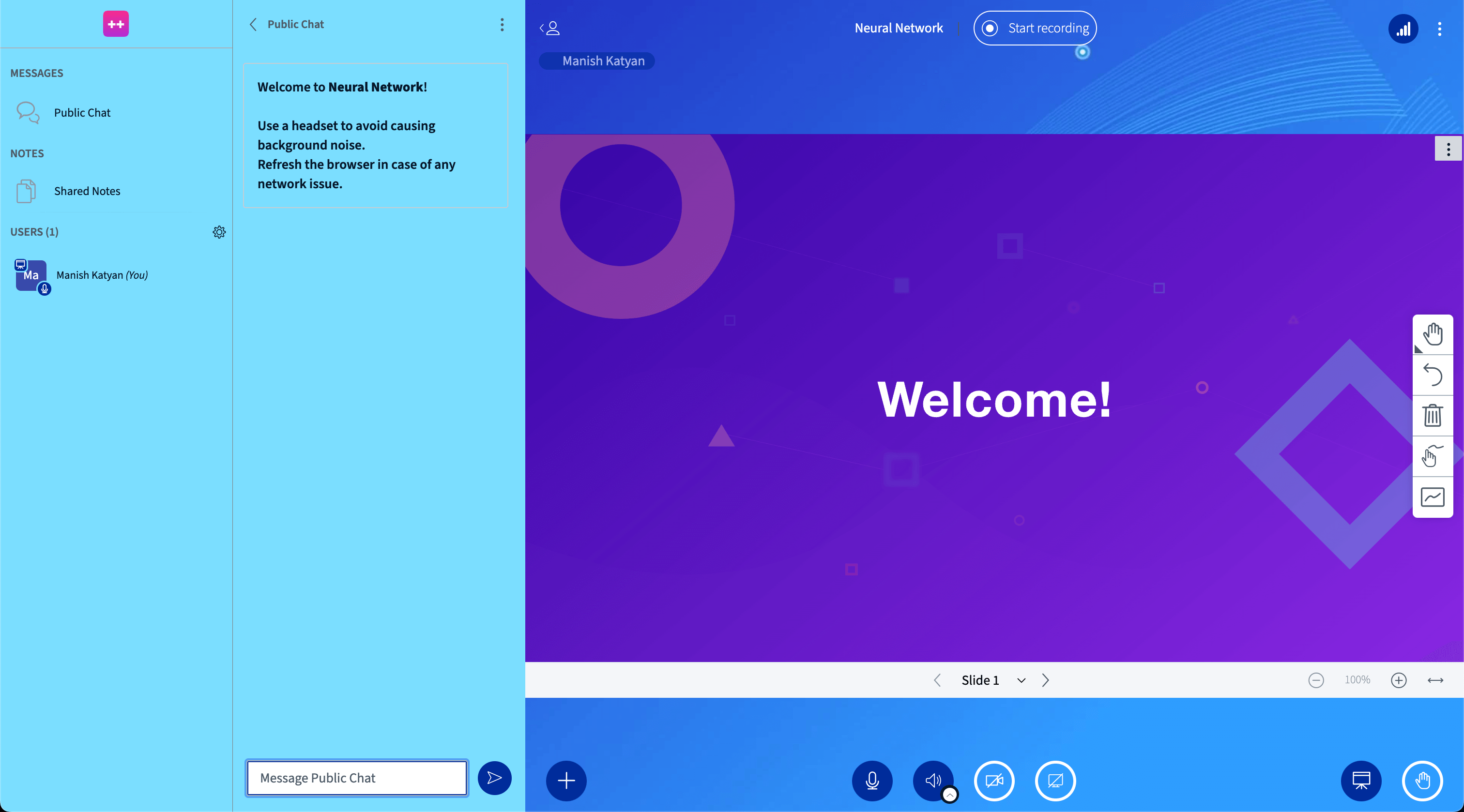 Start Online Classes at $12 /mo
Easy-to-use online classroom at low monthly cost. Engage students better with interactive sessions.
HD video
Download attendance
Integrate with any LMS
Upgrade/cancel anytime
Everything you need for online classes at scale
HD Video
HD audio/video conferencing with chat, whiteboard, poll and screen share
Branding
Build and promote your online classes with your brand, url, logo and theme 
Integration
Integrate with Moodle, Zoomla, Canvas, Sakai, Wordpress or any other LMS
Engagement
Raise hand, emoji, shared notes, breakout rooms, recording, and annotation
Analytics
Get analytics including attendance, chat transcript, and polls answers
Data Privacy
Get complete control of your students' data, without ever sharing with any 3rd party
Livestream
Livestream your classes to YouTube or Facebook or download MP4 videos
Scale with Ease
Load balancers with multiple servers to teach 1000s of students simultaneously
Everything you need for your online classes: HD audio/video conference, whiteboard, chat, slides, polling, raise hand and breakout rooms.
Start Free Trial
I just gave it a try and I think it is very helpful. Excellent!
Discover how online virtual classroom software impacts student performance and engagement. Learn practical tips and strategies to improve learning outcomes with a 2-week free trial of BigBlueButton!
Discover the ins and outs of BigBlueButton in our comprehensive guide. Compare pricing, features, and alternatives to make the best choice for your virtual classroom needs.
Create an inclusive virtual learning environment using BigBlueButton's accessibility features! Sign up for a 2-week free trial and explore its amazing tools for all students.
2 Weeks free trial. Full access.
Transform your online teaching with BigBlueButton.