BigBlueButton, the renowned open-source video conferencing software, is a preferred choice for online education and web meetings due to its extensive features. As virtual gatherings and digital classrooms gain momentum, comprehending the intricacies of BigBlueButton hosting becomes increasingly vital.
This guide gives you an in-depth understanding of self-hosting BigBlueButton on your server and how managed services can simplify the process, focusing on "BigBlueButton Hosting."
Free Trial of BigBlueButton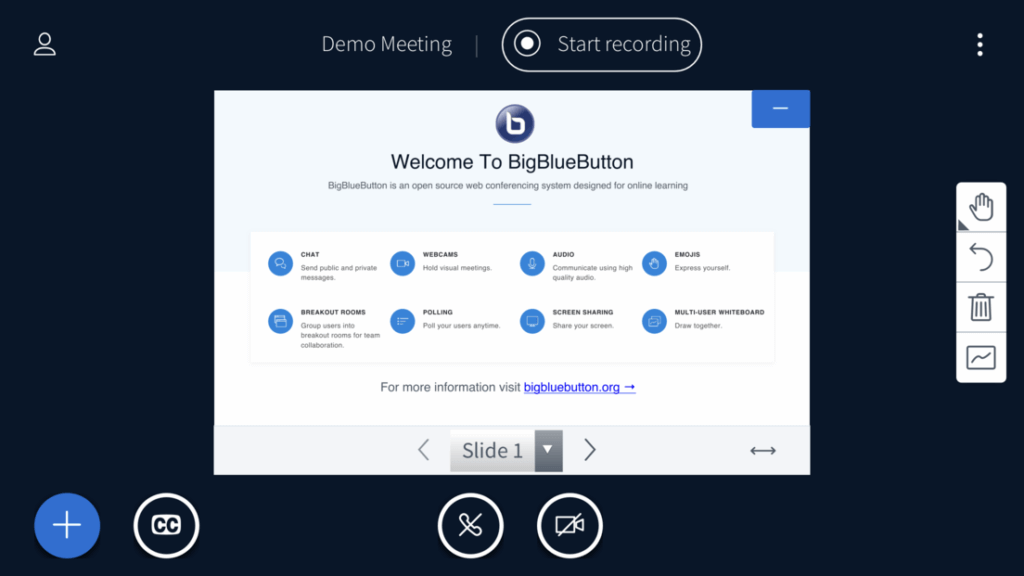 Before your install BigBlueButton and, if you are not familiar, sign up for a quick BigBlueButton demo:
Visit the demo page at demo.bigbluebutton.org.
Sign up for free.
Verify your email, and voila! You're ready to log into your account.
Once you're logged in, hit the "Start" button to kick off your very own BigBlueButton classroom. You'll be joining the meeting as a moderator, offering you full control over the session.
BigBlueButton Self-Hosting
BigBlueButton self-hosting is an achievable option given sufficient technical expertise and resources.
For a smooth experience, BigBlueButton advises a 'clean' and dedicated Ubuntu 20.04 64-bit server for installation, where 'clean' denotes the absence of prior web servers or applications occupying port 80/443.
This server exclusively hosts BigBlueButton, promising optimum performance without other applications' interference.
Minimum Server Requirements
In a production setting, minimum server requirements comprise:
Ubuntu 20.04 64-bit OS running Linux kernel 5.x
Latest Docker version installed
16 GB memory with swap enabled
8 CPU cores for superior single-thread performance
500 GB free disk space for recordings (or 50GB if recording is off)
Accessible TCP ports 80 and 443, and UDP ports 16384 – 32768
A hostname for SSL certificate setup.
These prerequisites ensure the BigBlueButton server can accommodate multiple users and high-quality video conferencing.
A more modest setup can reduce requirements to 4 CPU cores/8 GB of memory and 50GB of disk space.
SSL Certificate Configuration
Regardless of your hosting environment, configuring an SSL certificate on the nginx server is essential, driven by browser security needs for WebRTC webcam or microphone access.
To further amplify your virtual classrooms' capabilities, consider installing the BigBlueButton Streaming plugin. This free, open-source solution allows you to extend your classrooms to thousands of learners globally.
Easily stream your live classes on YouTube, Facebook, Vimeo, or any RTMP server right from your BigBlueButton interface, eradicating the user limit. BigBlueButton Streaming offers a seamless and user-friendly experience – simply enter the RTMP URL and access key, click "Start Streaming," and your class is now live, accessible to a broader audience.
This revolutionary tool brings education closer to those who desire it, ensuring education knows no boundaries.
Experience the full potential of virtual learning with BigBlueButton Streaming today.
Commercial Support for BigBlueButton Hosting
Even with technical know-how, BigBlueButton hosting can be challenging. If rapid solutions are required or technical expertise is lacking, consider approaching firms offering commercial BigBlueButton hosting support.
This choice allows professional assistance and contributes to BigBlueButton's overall improvement.
Managed BigBlueButton Hosting Services
A substitute to self-hosting is using a managed service like HigherEdLab.com.
They offer a fully-managed BigBlueButton hosting solution, including HD video, branding, LMS integration, engagement tools, analytics, data privacy, live streaming, and scalability.
With this service, you can enjoy BigBlueButton's advantages without managing the server yourself, maintaining complete data control for privacy and compliance.
Is BigBlueButton Free?
BigBlueButton is an open-source web conferencing system specifically designed for online learning. It is a robust platform that allows educators to deliver a high-quality learning experience to remote students. Being open-source means its source code is freely available, allowing global developers to contribute to its development and improvement.
BigBlueButton's licensing under the Lesser General Public License (LGPL) allows you to freely use, modify, and distribute the software, under specific conditions. This license provides flexibility as it permits modified versions of the software to be licensed under a different license, as long as the source code for the original LGPL-licensed components remains accessible.
This means you can customize BigBlueButton's source code for your use or to distribute it. If you distribute a modified version, you must also distribute the modified source code under the LGPL, allowing others to modify your changes.
Interestingly, LGPL does not restrict providing the software as a service. You can use BigBlueButton to provide your own web conferencing service, even commercially, without releasing any modifications or additions you've made that are not distributed.
While selling the source code itself is a bit complex, the LGPL doesn't restrict recipients' freedom to modify and distribute the software. They must be able to obtain the source code, modify it and distribute their modifications under the same LGPL license.
How much does BigBlueButton Hosting Cost
While BigBlueButton is open-source software and free to use, it's crucial to bear in mind the total cost of ownership. This cost extends beyond initial setup, encapsulating recurring expenses associated with servers, bandwidth, and storage.
Server Cost: The operation of BigBlueButton software demands a robust server setup, which can prove to be a substantial cost, particularly if you're handling a large learner base.
Bandwidth Cost: The high-quality real-time audio and video delivery, a standout feature of BigBlueButton, necessitates significant bandwidth. The more users and higher the content quality, the more bandwidth you will require, inevitably influencing your budget.
Storage Cost: If your plans involve recording and archiving your online classes for future reference, you'll need considerable storage. Depending on the number of classes and their duration, storage costs can swiftly accumulate.
You can utilize the provided Pricing Calculator tool to estimate the costs for these three elements, aiding in better budget preparation.
Additionally, operating a complex real-time system like BigBlueButton requires technical expertise. Given that the software undergoes updates every 2-4 weeks, staying abreast of these changes is crucial.
Regular perusal of the BigBlueButton-Setup mailing list can offer insights into common technical issues faced by administrators. Thus, remember to factor in potential costs associated with training or hiring technical personnel to manage and troubleshoot the BigBlueButton system.
In conclusion, BigBlueButton presents robust and scalable solutions for your online learning and conferencing needs, whether you choose self-hosting or a managed service.
Always refer to the official BigBlueButton documentation for the latest and most accurate information.
Key Takeaways
In deciding the best BigBlueButton hosting option, assess your organization's technical capabilities, resources, and particular needs. Self-hosting is beneficial if you possess technical expertise and resources.
However, if you'd rather concentrate on utilizing the platform over managing technical aspects, commercial support or a managed service like HigherEdLab.com may be your perfect solution.
Understanding the intricacies of BigBlueButton hosting empowers you to make an informed decision, aligning with your organization's needs and capabilities.
Consequently, you'll be able to harness BigBlueButton's impressive features, creating an effective and engaging online learning environment.
Remember, choosing between self-hosting and a managed service is not a one-size-fits-all situation. It's about striking the right balance between technical resources, budget, and your organization's specific needs.
Regardless of your choice, BigBlueButton is a potent tool that can enhance your online learning and web conferencing experiences.
This guide reflects information as of July 2023. It's always advisable to refer to the BigBlueButton official documentation for the most recent, detailed instructions.
By selecting the correct hosting solution, you can unlock BigBlueButton's full potential and revolutionize your online learning and conferencing experiences. Happy hosting!