When it comes to open-source online classroom software, BigBlueButton stands out as a top choice. It offers an array of features, from video conferencing to real-time sharing of documents. But, to ensure a smooth and uninterrupted experience, understanding the BigBlueButton system requirements is crucial. This post will break down what you need to access BigBlueButton meetings seamlessly.
Online learning solutions like BigBlueButton have changed the landscape of education, enabling unprecedented connectivity and interactivity for students worldwide.
Renowned for its open-source technology and user-friendly interface, BigBlueButton offers a myriad of features such as video conferencing and real-time document sharing.
However, to fully benefit from these functions and ensure a seamless, uninterrupted user experience, it's essential to grasp the BigBlueButton system requirements.
In this blog post, we'll delve into these prerequisites to help you navigate your BigBlueButton meetings with ease.
BigBlueButton System Specifications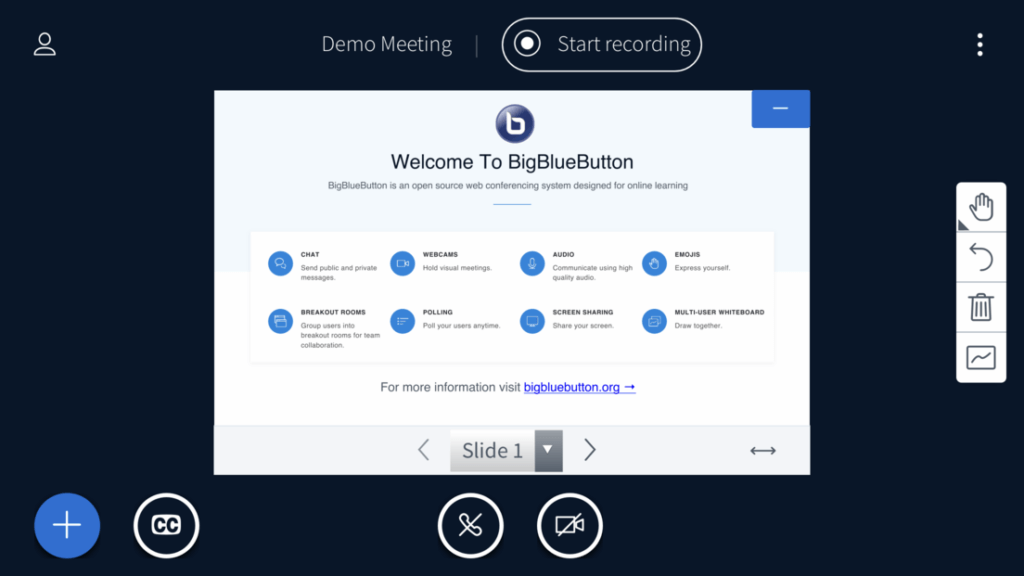 Before we delve into the more complex requirements of software and browser compatibility, it's fundamental to understand the hardware specifications.
To enjoy an uninterrupted audio-visual experience on BigBlueButton, the following hardware configurations are recommended:
A dual-core CPU
At least 2GB of memory
Meeting these requirements will equip your device to meet the demands of an interactive, real-time online meeting without any glitches.
Operating System Compatibility
One of the major strengths of BigBlueButton is its broad compatibility with various platforms. Whether you're working from a laptop, desktop, or a mobile device, BigBlueButton provides a seamless experience. Here are the supported operating systems:
Apple macOS
Microsoft Windows
Linux
Apple iOS (for mobile)
Google Android (for mobile)
For Android users, BigBlueButton works perfectly within the default Chrome browser on Android 6.0 and higher.
On the flip side, iOS users can access BigBlueButton via the Safari Mobile browser on iOS 12.2 and higher. This extensive compatibility ensures uninterrupted participation in BigBlueButton meetings, regardless of your device.
BigBlueButton Browser Requirements
While BigBlueButton is compatible with most modern browsers, the experience is optimized for certain ones. Here's the list of recommended browsers:
Google Chrome (latest version)
Mozilla Firefox (latest version)
Safari
Edge (running the latest Chromium)
Safari and Edge are perfectly capable of running BigBlueButton, but should you experience any glitches with audio or video quality such as garbled sound or periodic disconnections, we recommend transitioning to Chrome or Firefox. These browsers have been proven to deliver superior audio-visual quality, especially in lower bandwidth scenarios.
BigBlueButton Bandwidth Requirements
Another crucial aspect of the BigBlueButton system requirements is bandwidth. The bandwidth you need will depend on what you're doing in the meeting. Here's a rough breakdown:
If you're broadcasting your webcam and microphone, you'll need approximately 0.3 Mbits/sec of upstream bandwidth.
If you're in a session with four other people all broadcasting their webcams, you'll require roughly 1 Mbits/sec of incoming bandwidth for the webcams and 0.04 Mbits/sec for the incoming audio.
To ensure you meet these bandwidth requirements, you can use tools such as speedtest.net to verify your actual bandwidth.
By adhering to these system requirements, you can ensure a fluid, hassle-free experience during your BigBlueButton meetings. Stay connected, stay informed, and transform your online learning experience with BigBlueButton!
Your Gateway to Seamless BigBlueButton Meetings
Now that you've understood the BigBlueButton system requirements, you might be wondering where to start. HigherEdLab.com, a startup offering BigBlueButton hosting, is your one-stop solution. With HigherEdLab.com, you can:
Start online classes on BigBlueButton effortlessly
Enjoy crystal-clear HD video learning
Engage with interactive tools like chat, polls, and presentations
Benefit from ChatGPT-powered quizzes and transcription for enhanced learning
Customize your virtual classroom with your domain, logo, and colors
Manage users effectively with advanced user management, integration, and analytics
With HigherEdLab.com, you don't just meet the BigBlueButton system requirements; you surpass them for an exceptional online learning experience.
Conclusion
Understanding the BigBlueButton system requirements is the first step to a smooth online meeting experience. By ensuring your device, operating system, browser, and bandwidth meet these requirements, you'll be well-prepared for your next BigBlueButton meeting.
Remember, a well-prepared participant makes for a productive meeting!
Please note, it's always recommended to check the official BigBlueButton documentation for the most up-to-date information. As technology advances, these requirements may change, so stay informed!
Whether you're a student attending a virtual class, a remote worker in a company meeting, or a teacher hosting a lecture, knowing these BigBlueButton system requirements will ensure you get the most out of your online meeting experience.
Keep these guidelines handy, and enjoy seamless, productive meetings with BigBlueButton.
Ready to take your online meetings to the next level?
Give HigherEdLab.com a try today and discover the difference a top-tier BigBlueButton hosting platform can make.
Let's redefine online learning, together!