Start Online Classes on BigBlueButton
$12 per month · HD audio and video · Streaming + MP4 recordings + Analytics
2 Weeks Free Trial · No Credit Card Needed
Clients we serve from USA, UK, Spain, Indonesia, India
BigBlueButton servers that we run in Singapore, Germany and USA
% Uptime that we deliver through real-time real-person tech support
Migration took literally two lines and 30 seconds! Remarkably painless and brilliant service.
Fast tech support. Everything worked fine. I am going to continue hiring for my upcoming classes.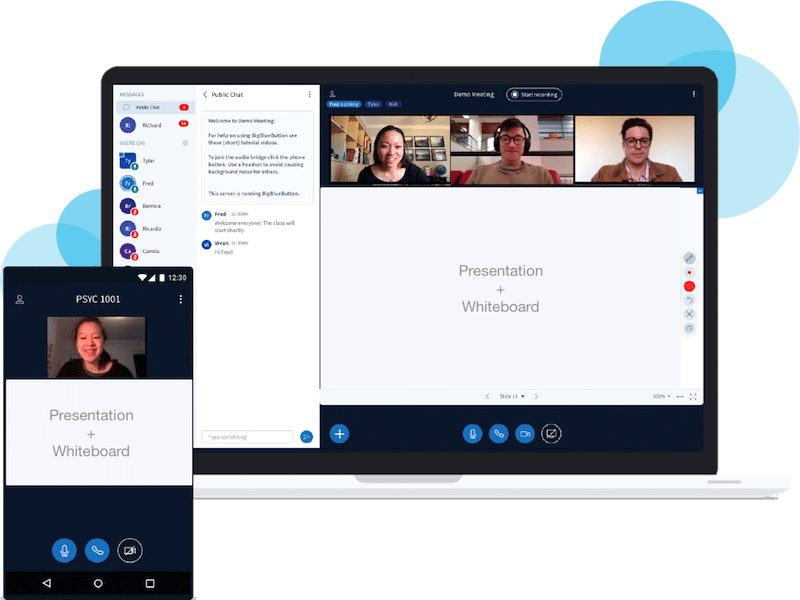 Start Online Classes at $12 /mo
BigBlueButton is like-Zoom for online classes but at a much lower cost, better analytics, various engagement tools, and, the best part, white-labelled.
HD video
View attendance
Stream on YouTube
Integrate with Moodle
Upgrade/cancel anytime
Everything you need for online classes at scale
HD Video
HD audio/video conferencing with chat, whiteboard, poll and screen share
Branding
Build and promote your online classes with your brand, url, logo and theme 
Integration
Integrate with Moodle, Zoomla, Canvas, Sakai, Wordpress or any other LMS
Engagement
Raise hand, emoji, shared notes, breakout rooms, recording, and annotation
Analytics
Get analytics including attendance, chat transcript, and polls answers
Data Privacy
Get complete control of your students' data, without ever sharing with any 3rd party
Livestream
Livestream your classes to YouTube or Facebook or download MP4 videos
Scale with Ease
Load balancers with multiple servers to teach 1000s of students simultaneously
Everything you need for your online classes: HD audio/video conference, whiteboard, chat, slides, polling, raise hand and breakout rooms.
Start Free Trial
I just gave it a try and I think it is very helpful. Excellent!
Zoom
BBB
Primary purpose
Online meetings
Online classes
Video & Audio
Yes
Yes
Chat
Yes
Yes
Screen share
Yes
Yes
Application share
Yes
No
Share computer sound
Yes
Yes
MP4 Recording
Yes
Yes
Whiteboard
Yes
Yes
Annotate Presentation
Yes
Yes
Break-out room
Yes
Yes
Co-host/Moderator
Yes
Yes
Polls
Yes
Yes
Virtual hand raise
Yes
Yes
Status Emojis
Yes
Yes
File transfer
Yes
No (share link on chat)
Shared notes
No
Yes
Dial-in with phone
Yes
Yes
Shares data with 3rd party
Yes (

Shares data with Facebook and other advertisers)

No (You host on your own servers)
Custom Domain
No
Yes (You can host under your own domain)
Analytics
Minimal
Detailed (attendance, chat and poll)
Integration with LMS
Completely separate from LMS
Integrates with many LMS including Moodle, Canvas, Joomla, Schoology, and WordPress
Desktop client or browser
Desktop client with frequent updates and one-time audio plug-in
Runs in browser. Nothing extra needed.
Data privacy
No
Yes (You can host on your own server and control whether and which user data is tracked)
2 Weeks free trial. Full access.
Take a free trial of BigBlueButton to discover how it is better and cheaper than Zoom for conducting online classes.